LivMS Event:
Date: 06 Mar, 2024
Time: 17:00
Presenter: Finn Allison
Title: Fantastical modes and how to find them
Audience: Year 11 up
Venue: TBA
Contact: Peter Giblin
---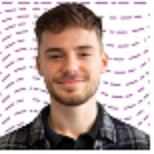 We hunt a two-fanged finite shape-shifter
made from masses, point-like, and springs, linear.
At natural frequencies it's true nature is revealed -
the modes fantastical otherwise concealed.
With a radial pulsing it lures its prey
and devours them whole so the legends say.
Its syncopated beats form a hypnotic dance,
sending all who dare look into an endless trance.
A creature found lurking in the depths of caves,
you say "hello" and to you back, it waves.
---