Apollonius' Problem is to draw a circle which touches (is a tangent to) another 3 objects - either points (P), lines (L) or circles (C).
The most general case is the circle which is a tangent to 3 other circles (CCC) when there are 8 solutions.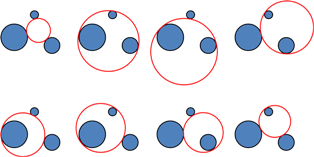 The construction of these circles is not a trivial task.
The method is given at: http://mathworld.wolfram.com/ApolloniusProblem.html and clarification can be found at:
www.ajur.uni.edu/v3n1/Gisch and Ribando.pdf
The case of the circle touching 3 points (PPP) is the classical circumcircle of a triangle and is a unique solution.
There are 8 other cases PPL, CPL etc. which have differing numbers of solutions and complexity of construction.
Construction of the solution to these problems is described at: http://en.wikipedia.org/wiki/Special_cases_of_Apollonius'_problem
Most of the techniques required are hotlinked in these page however
http://web.mat.bham.ac.uk/C.J.Sangwin/Teaching/geom/Tangent_circle_circle/ruler-compass/circle-circle-tangent-rulercompass.html
describes carefully the necessary technique for forming the four tangents to two circles.
The free online drawing package Geogebra makes the investigation of these problems an easier exercise.
---