We are going to make a pentagon.
By making twelve such pentagons you can construct a dodecahedron like the one in the picture.
For each pentagon, you will need a piece of A4 paper and then follow the instructions below.

Fold the paper in half both ways to find the centre O.

Fold along the red line so A touches O.

Fold B to O similarly.

Fold C and D to O.

Next fold along PQ.

As the two halves come together, tuck the two inside flaps behind one another to make 'pockets (see diagram below)'.

Fold R and S up to the centre line, so that they meet to form a straight line and make a pentagon.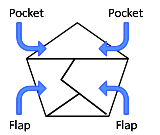 If you make 12 pentagons in this way and assemble them, using your 'flaps' and 'pockets', you can make a dodecahedron.
---